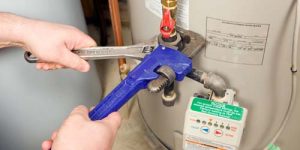 Brite Future Plumbing offers unbeatable water heater repair service in Davie and all of the greater Fort Lauderdale area.
Water heaters don't last forever and eventually we all need water heater repair. Given time, water heater failure is normal. But, while it might be a fairly common occurence, it is still quite inconvenient to you and your family or business. That's why you need to call a trusted Davie plumber who cares, to get your heating unit back in service as quickly and as efficiently as possible.
Brite Future Plumbing is your local trusted plumbers for all your water heater repair needs for all types and manufacturers. We are a full service and family owned company that provides free estimates. We will dispatch a technician and let you know how much your repairs will be before any work is ever performed and if a new water heater is what you need, we can supply and install any type you need – gas or electric, traditional tank models, tankless, and hybrid units are just some of your options.
We are proud to be the area's quality and value leader for your repair needs for all types of units – both commercial and residential. No matter if your hot water heater is completely broken or merely requires a bit of maintenance, our expert plumbers will get your household or company recovered promptly, quite often the same exact day that we receive your call
Fortunately for consumers, most water heater parts can be fixed by an experienced plumber with the exception of your hot water heater tank. Once the tank is damaged, your only alternative is a new unit. Have one of our helpful specialists assess your water heating system to discover precisely what the issue is and discuss your plan of action. We'll be guaranteed to get your hot water heater repairs done quicker and at a better rate than any other licensed plumbing company. Remember, not all plumbers are the same, never choose anyone other than a state licensed plumber for your repair work.
Our water heater repair is guaranteed

We always guarantee your complete satisfaction on every job we do. Quality and value are what makes us your number one choice for water heater repair in Davie and beyond.
Call Brite Future now at (954) 577-3651 and let us get your water heater repaired right away!